extremely picture-heavy post
Waking up, I can't help but feel giddy with what's ahead of our first full day in Korea. Of course, I was still feeling very sick. But there is really something about adrenaline that makes you forget your sore throat.
The good thing about the hostel is the free breakfast. It is not much (e.g. coffee, bread, butter, jam and cereals), but compounding the amount we will pay outside for food, it is still something.
Our hostel being a station away from Myeongdong, we just walked for 5 minutes before reaching the busy intersection. Was it cold? Yes. But cold enough to wear gloves? Not really. So what we felt in the airport last night still rang true the day after. We also were able to rent a Wi-Fi egg from the hostel for the whole duration of our trip. We just had to pay KRW 50,000 deposit, which will be returned when we leave.
However, I still have to buy a pair of earmuffs. Like mentioned back in 2012, I have lost it somewhere in COEX mall on our last day.
At first, we thought that it was not a busy day in Myeongdong. It just dawned on us minutes after that this place gets crowded in the evening. With stores closing very late at night, it is not unusual to see throngs of people after office hours.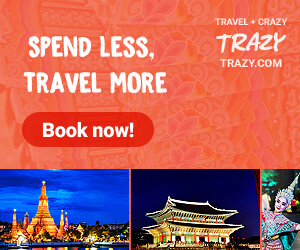 We went to look for earmuffs. The last time we bought one, it cost us
KRW 5,000
. We found a stall selling the exact ones I used to have at KRW 4,500.
We did not have a specific itinerary for this trip. Unlike before where we were rushing from one place to another, we just wanted it to be a chill vacation (no pun intended). Outside the usual tourist traps of Seoul, we decided to visit a different temple.
Don't laugh on our point of reference. Back in 2012, we watched Kimmy Dora and the Temple of Kiyeme and I fell in love at the location of the temple that Kimmy, Dora and Don Luisito visited. The Temple of Kiyeme is actually Doseonsa Temple located at the foot of Mt. Bukhansan in Gangbuk-gu, Seoul. I just fell in love with the hundreds of lanterns hanging I saw at the film, and the remoteness of the area from downtown Seoul.
I know that Korea's transport system is very efficient, but something about the bus still unnerves me. Maybe because it was not as linear as trains, or there was a risk of getting lost and not getting back to the other direction right away.
So going to Doseonsa, we  have to reach Suyu station. From Chungmuro, we took the train going to Dongdaemun station, and transferred to Line 4 to reach Suyu station, which was 7 stations away.
That was the easy part. Waiting for the bus was a different story. Once we got out of Suyu station, we had no idea where to wait for Bus 120. We walked all the way to another side of the street. When we got there, the Bus 120 that arrived appeared to have just come from  Ui-dong.
So we have to walk back again to the exit of Suyu station and almost in front of the stairs itself was the bus station. While crossing the street, the bus was already loading passengers, so we had to run for our lives.
I have a card-type T-Money with me. Mon, on the other hand, still had the small tab kind and it appeared not to work with the bus. We were already at the back of the bus when the driver had to call our attention (in rapid Korean), presumably telling us that there was a problem. He was pointing at Mon so I guessed his T-money was not working properly!
After about 15 minutes, we stopped at the last station, Ui-dong. It is hard to miss, especially people had to ALL disembark. You can also see the bus terminal.
As it was lunch time already, we had to look for a place to eat lunch. It is a very quaint area and there were rows of what seems to be home-cooked food available. We settled at the one in the middle of the photo above.
It took the kind lady around 15 minutes to prepare the humongous pajeon and the kimbap. My throat was still hurting, but I had to endure the slight spice because, well, I was hungry.
After lunch, we still had no idea which transport to take to Doseonsa. Going to the shed right across the bus terminal, there were several taxis waiting. But I've read there were free shuttle services to take us there so we waited out with some elder people.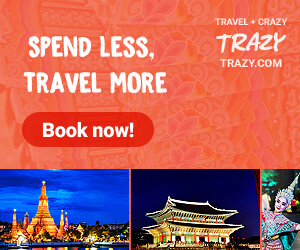 A van arrived and when everybody got on their feet, we followed suit. The first thing I asked was a rising-intonation "Doseonsa?", to which the driver nodded yes. I was not sure if it was a free ride, but we just observed the people we were with if there was an attempt to bring out money. Nada. So it really was a free ride! (The taxi would cost from KRW 1,500-3,000).
The van will not bring you in front of Doseonsa. We alighted on a rotonda with a Buddha. We still have to walk up for about 10 minutes. It was a really wonderful walk. Loudspeakers were blazing with Buddhists chants and from the ravine, we can see that we were way up from Seoul! We also noticed a stream with frozen water.
The first staircase I saw was very familiar because this was where Eugene Domingo convincingly ranted in French! Very funny scene and I had to tell Mon "Ne me touche pas! Va-t-en!" =D
And then I fell in love with the kimbap-looking lanterns. I was extremely delighted and I did not let the opportunity pass without a photo with them and the ornate door behind. Very Veruschka!
Walking past the lanterns, we found ourselves on another familiar spot. This was where Dora hilariously prayed to a snowman. And the best thing about stopping here was our first snow sighting! My heart leaped with joy!
Next to the lanterns, there was a staircase going up. From below, we can see that the lanterns were more ornate. However, there was a ceremony going on and we did not dare barge in and disturb their peace. I just took a photo of Mon from up the stairs.
I think at this point, Mon was already feeling really cold. I was wearing a comfortable Adidas leather jacket (with quilted padding inside), while he only has a coat that I suspect from the start to be not enough.
Mon tried to keep up while I quickly moved from one place to another. I just adore the peace and quiet in Doseonsa. The sun was fuzzily shining through the winter sky and my skin looked perfect. LOL
Going up to another set of stairs (four or five sets), Mon was already cold. But this is another area not to miss. It was the Thousand Buddha Hall.
I had a grand time taking tons of photos here and impressive was really an understatement.
At around 3:30 PM, we finally decided to leave. We went back to the rotonda where we had earlier alighted. We fell in line with some people who we assumed to be waiting for the shuttle service. After about 10 minutes, a bus arrived to take us down.
I was observing the people outside from the bus and I had to give it to the elderly who obviously were hiking on their way up. I just don't think I have the patience for hiking.
There were also several establishments in the entrance to Bukhansan National Park. However, we have no idea how to get on another bus if we were to hop off. The ride back to Chungmuro was straight forward. We did not get lost as we only reversed what we had taken earlier that day.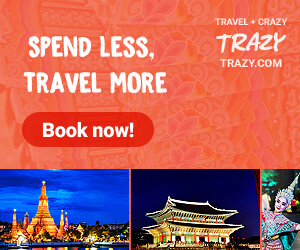 We went back to the hostel to quickly freshen up before venturing to a place we have never visited before: Dongdaemun Design Plaza (DDP).
This place was only opened in 2014, therefore we did not obviously see it before. However, I vividly remember ongoing constructions and fences across from Doota Mall in 2012.
I love that this is just a station away from Chungmuro. Going out of the station, I was amazed to see how modern it was, with the extremely well thought out lighting all over.
Of course, people flocked at the popular thousand LED roses installation. This is completely different from the thousand Buddhas and lanterns from earlier that day. There's always something mesmerizing with patterns, no? (I just found out much later on that this was a shooting location for the K-Drama 'She Was Pretty')
Also worth noting is the stark contrast of putting an ancient-looking arch within the modern DDP complex. We had a field day taking the photos here. But, alas, I should only choose two for this post.
Going out to the other side, there were huge metallic sculptures. On a different note, I remember just looking at the winter sky for a good minute, wondering about the clouds. That was so random, I know, but I just recalled the clouds from our descent last night.
For dinner, we visited the place we love. We accidentally got wind of this restaurant before after dropping by Doota Mall. The name of the place is 삼오정 Samujeong.
This is the map to the place, located right at this corner across Lotteria at Eulji-ro 43-gil:

I am telling you, they serve delicious food and the price is not too bad at all. We realize that we still have not tried samgyeopsal for years, so it was natural to eat our first there. But please know that samgyeopsal cost a bit more than their other dishes. Also, you will be ordering for two people because it is not customary to share a single serving. Cultural, I know.
By the time we finished the third slab, I was already bursting! Just look at how much food Mon and I had for dinner!
We were seated at the first floor, but the rest room is at the second floor. But before you reach the rest room you have to remove your shoes and wear bathroom slippers. The second floor house customers who were there to drink, mostly.
After leaving Samujeong, we decided to call it a night. But it was weird to feel crazy cold on the streets after eating that heavy dinner! It might have been the time but I was already freezing inside each time the wind blows. My feet were also hurting a little from the all-day walking. The walk back to the train station seemed an eternity when your feet is aching.
After the first full day in Seoul, I felt extremely thankful to be finally back.
*See related posts in this "Winter in Seoul 2016" series.