After four years, I can't believe that we are traveling again to South Korea! Especially after the passport and visa drama from a week ago!
Mon and I have a soft spot for Seoul. We have been twice there before (summer of 2011 and winter of 2012), and we look forward to see what changes there might be. The country is to host the 2018 Winter Olympics, and it will be interesting to note of any preparations that they have (if there is).
Before anything else, I will be traveling with a very sore throat. Just imagine my horror waking up on Thursday barely able to speak. But this has been planned already and I packed a bottle of Bactidol for extra measure.
Our flight left the Philippines at around 3:00 pm. We will be arriving four hours after in Incheon International Airport. I was feeling a bit feverish during the flight, but somehow, my excitement to be back eclipsed my predicament.
It is no secret that I love winter so much. However, I was anxious that I might not even see snow when we arrive. Global warming is real. I have been monitoring the weather for days before we arrive and not a single snowfall took place in Seoul. Sure we can go to Seoraksan just to see snow, but we do not have time for that.
It was already past 8 pm when we got out of the immigration area. We arrived with a flight from China and the queue was abysmally long.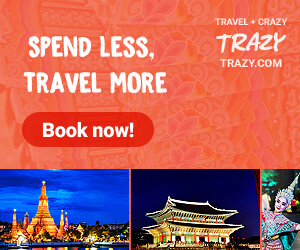 The first thing we had to do is exchange money. I've read from a local forum that the money changer at the departure area (near Cebu Pacific counter) had a good deal for exchanging Philippine Pesos. Turned out, they we wrong.
The exchange rate was only at Php 1 = KRW 21.50 and not the reported KRW 27.
I did not bring any USD with me, except for a single US$ 100 bill I left from our trip to Thailand two months before. I had no choice but to exchange it or we won't be able to eat nor go to Seoul from the airport.
The airport looked the same from the last time remember it. I was just happy to be back again, especially as the year after our previous trip I thought I'd be goners. Kidding aside, I was quite emotional looking back. I dreamed of Korea earlier in 2016, riding a steam-engine train back to the city.
The weather was not as cold as the last winter we were there. Granted that we were still inside the airport, something about not being compelled to wear thermal pants or anything speak a lot of the temperature.
From the departure, we went back to the arrival area again to eat dinner. McDonald's was surprisingly no longer there, so we settled for Lotteria. My throat was still aching badly and it felt drier than hours before. But it did not deter me from gorging the whole burger down. It did not help that the chicken was also quite spicy.
By the time we finished eating, it was already 9:30 PM.
Of course, we still know how to get to the train going to Seoul. However, we tried and failed figuring out how to buy ticket for the express train (around KRW 8,000 each). We were standing in front of the machine for 5 minutes trying to make sense of the time table etc.
After wasting time, we just went to the option we know best — taking the all-stop train that only cost us more than half each.
There were a lot to see outside, as usual, during the whole ride. But our hands were too occupied with our bags that we did not bother taking any photos.
Upon arriving at Seoul Station, we noticed that the way we were taking were not the same one as in 2012. Before, we had to take the long escalator ride to the busy Seoul Station common area. But for reasons we can't recall, we just found ourselves to the lines connecting to the train going to Chungmuro station (where our guesthouse was located, one station away from Myeongdong).
My suspicions came true. It was cold but not cold enough to warrant gloves. But I, nevertheless, enjoyed the cold weather.
We had no trouble finding our guesthouse because it was so close to the train station. At around 11 pm, we managed to check in, get the Wi-Fi password and rest for the day after.
It really felt good to be back!
See related posts in this "Winter in Seoul 2016" series.