*extremely picture-heavy post
It took me a long while to continue with my Winter in Seoul series because a lot has already happened even before reaching half of January.
I do hope to document the remaining ones more frequently as I am now beginning to forget the finer details of our trip. LOL Looking back, it has been exactly a month already since our third day trip to Korea.
So, following our eventful trip to Nami Island in December 13, we had a quick lunch back in Myeongdong (it was quite a disaster, truth be told) before heading out to the War Memorial of Korea. I would not allow our trip to finish without visiting this place because it was after all, the first place we should have visited on our first day right after checking in the guesthouse had we not taken more time resting.
We had a knack for visiting war and history-related areas right off the bat, the same way we went straight to the Joint Security Area trip last year. But unfortunately, it did not materialize on our second visit.
The Sanctuary of National Defense, The War Memorial of KoreaFrom Myeongdong station, we took the subway going to Samgakji station (four stations away), the same direction as Seoul station.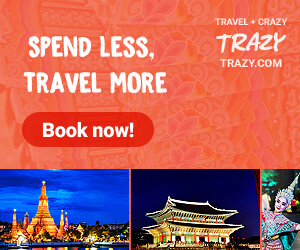 It was almost 5:00 PM when we started travelling and I was already half-convinced that it was not a good idea to push through with the plan because according to the museum's website, last admission would be at 5:00 PM. There was no admission fee and it was wide open to the public and I feared that they might be very strict with their rules.
We arrived at exactly 5:15 PM and I was telling Mon that we should just leave. However, he reasoned out that since we have already travelled all the way to this place, there would be no harm in trying to go inside unless the security personnel and receptionist prohibited us from doing so. And they did not. We just went straight inside and took photos of their awesome lobby.
We did not even bother asking for a map of the place because they might chuck as out. There were still a good amount of people inside, considering that it was already late and we headed straight away to the exhibition hall in the second floor, which housed smaller equipment from World War II and the Korean War.
I think that some of my friends still find it weird that I have a fascination over wars but I can't help but feel drawn over the concept of how far humans will go for the sake of seeking power and dominance.
Looking at images of battle and bloodshed always remind me on how lucky we are to have not experience such a tumultuous event in our lives and I can never, in a million years, imagine being conscripted to fight in a war and don those military uniforms. George Santayana once quipped: "Those who don't remember the past are condemned to repeat it", and I can't agree enough on how true these words are.
I take a special interest over the Cold War, and Korea is still one of the best places, if not the best to go for Cold War enthusiasts like me because it is the most extant remnant of that era.
The two countries, being still technically at war because of the absence of a peace treaty (only an Armistice Agreement was signed in 1953), present themselves as living examples of living in constant fear and being mindful of your enemy (and that's the realist in me talking). To see these actual witnesses of that particular part of history sent chills down my spine.
We were running against time because we have already arrived already late, and I was very eager to see the Large Military Equipment Exhibition area outside the main building with hopefully the daylight still on. It was an amazing view to behold: a large area with a hundred plus military equipment neatly placed one after the other.
The most terrific one was the replica of the battleship PKM 357 — the original was sunk at the Second Battle of Yeonpyeong in 2002. It felt weird to see these ships, whose whole history has taken my interest in one of my research papers in graduate school (I have taken a keen interest in the bombardment of that island in late 2010).
It was amazing to see all of these equipment and machines used during the WWII and the Korean WarGood thing that Mon's camera was decent enough and good for taking pictures in low light. By the time we reached the battleship near the entrance, it was already dark and my two cameras stood no chance under my cold, shaking hands and darkness.
However, I was still happy that I get to take pictures of the monuments and the building itself when they were already beautifully lit. The beauty was beyond words.
In front of the vendo machine with the city lights in the backgroundHonestly, I wish we could have gotten there way earlier because I had little time to walk around some of the exhibit area and I did not even have the time to visit those dedicated to pre-modern warfare.
We also originally planned to visit Incheon and I had actually looked forward to see the place where General Douglas MacArthur and his venerated amphibious landing (Operation Chromite) first arrived in Wolmido in 1950.
But alas, we scrapped the idea. =/ Maybe, just maybe, when we got back to Korea this autumn, we can make time for that but it is still too early in the year to finalize itineraries. =D
*See related posts in this "Winter in Seoul 2012" series.